The Hotel Gargano in Vieste, surrounded by the green, plunged into the marvellous Gargano National Park, is in a favorable position that overlooks the Portonuovo bay.
Close to the clear sea and 4 km far from the center of the village, our Hotel is the ideal destination for who wants to spend a relaxing holiday.
A lot are the services for a really comfortable stay: restaurant, bar, TV room, private parking, private park, private beach, playground, semi-Olympic pool. Really appreciated by the Guests of the Hotel Gargano is its favorable position: it is indeed close to the Baia di Campi, among Vieste and Mattinata. The Bay has a wonderful beach and amazing bottoms.
Baia di Campi, that is included into the Biogenetic Park of Monte Barone, is the ideal place from which to leave and discover the Gargano. Close are also Manfredonia and Mattinata with their beaches and the Salina "Margherita di Savoia", an unmissable natural masterpiece, even if one want to visit San Giovanni Rotondo or Monte San'Angelo.
From here is also possible to reach, by boat, the amazing Tremiti Islands, and live an unforgettable day and make once more special a holiday in Vieste.
At the Hotel Gargano one will live beautiful holidays at the beach and know the Gargano promontory.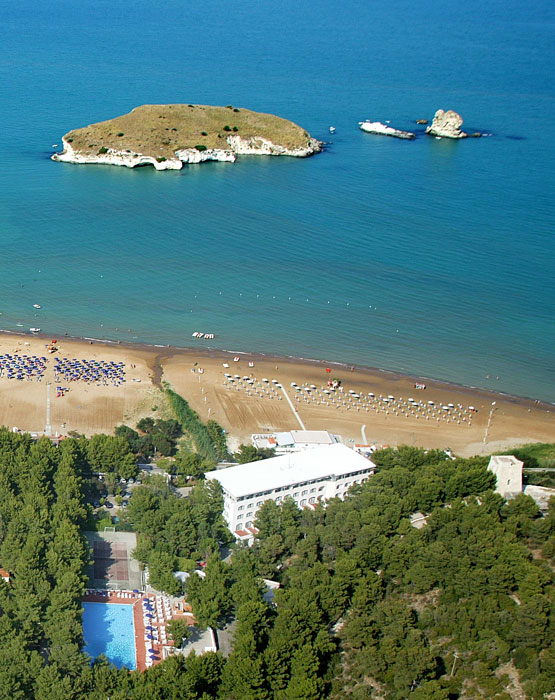 "Also great for the end of the season! "- Despite being the last week of opening and then not working all the services offered by this hotel, I can only confirm the excellent previous judgments. Cleaning the rooms impeccable ....
fereTerni • Italy

"Four stars on the field "- I stayed at the hotel from August 29 to September 5, 2015 together with my wife and my 7 year old son. I was immediately impressed by the helpful staff all: the receptionist, who already at the time booking...
Caesar102 • Italy